Outstanding Physician Specialists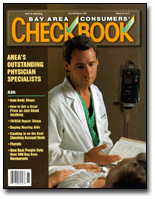 To get good medical care, you need to form a relationship with a primary care physician. This should be a family practitioner, an internist, or a pediatrician (for children). But given the complexities of modern medicine and the limits on the knowledge any person can absorb, your primary care doctor will feel it necessary to refer you to a specialist for many health care problems.
If you have a primary care doctor you trust, you will naturally want to put considerable stock in his or her recommendations But it is useful to have some knowledge of the area's best specialists so that you can discuss the choices with your primary care physician.
In an effort to identify some of the Bay Area's best specialists, we surveyed roughly 13,500 area physicians and (at the same time we were asking them to rate hospitals and HMOs for CNECKBOOK, Volume 8, Number 2) we asked them to tell us which specialists, in 30 different fields, they "would consider most desirable for care of a loved one." Nearly 600 physicians responded with thousands of recommendations.
The list below contains the names of physicians who were mentioned multiple times by other Bay Area physicians. Names appear in the specialty category chosen by the surveyed physicians.
Immediately following each physician's name we report the number of mentions received in our survey. Because of the nature of the survey, physicians in some specialties with large numbers of practitioners are unlikely to be mentioned more than a few times while physicians in specialties with only a few practitioners but a fairly large number of patients may get a large number of mentions Accordingly, in some specialties we have listed specialists mentioned as few as three times; in other specialties, the cutoff was more than eight mentions.
We have included on the list physicians in the three primary care fields-family practice, internal medicine, and pediatrics. Because recommendations were spread across many hundreds of physicians in these fields, very few received even three mentions. So our list of physicians in these primary care fields doesn't begin to include the hundreds of top-quality primary care doctors in the area. But since we had this list, even though it is short, we thought you would want us to share it with you.

On the list, we indicate where each physician graduated from medical school and his or her year of graduation. The list also shows what Board Certifications each doctor holds. Board certification means that a physician has taken several years of practical training in a field after graduating from medical school and has passed a difficult exam in that field. Information on board certification and medical school information for board certified doctors comes from a 1997 list compiled by the American Board of Medical Specialists (ABMS). (If we could not find a doctor on the ABMS list, we have not listed board certification for that doctor, though it is possible that some certified doctors do not appear on that list or that we failed to identify some listed doctors. It is also possible that some doctors' listed certifications might have expired by the time you read this.) Addresses and phone numbers (and medical school information for doctors who are not listed as board certified by ABMS) come from calls we made to the doctors' offices.
Obviously, there are some possible biases in a list like this. Doctors could recommend themselves or close colleagues or other doctors with whom they have financially beneficial back-and-forth referral arrangements. Since we asked for recommendations in 30 specialty fields,, however, it is likely that most doctors were mentioning many specialists with whom they had no financial connection.
It is also possible that some doctors who got favorable mentions did so just because they are well-known. They might have gotten negative mentions from other doctors if we had asked for negatives.
Nonetheless, favorable mentions bye number of doctors-the more the better-are likely to be a good sign. Our list should steer you to some very good candidates.
Keep in mind that we didn't ask about all special- so some physicians did not have an opportunity to be included on our list.
OPHTHALMOLOGY

Aguilar, Gabriel (4 mentions) UCLA, 1974
Certification: Ophthalmology
909 Hyde St #530, San Francisco 415-775-3392


Ai, Everett (4 mentions) SUNY-Syracuse, 1975
Certification: Ophthalmology
1 Daniel Burnham Ct #210C, San Francisco 415-441-0906
2100 Webster St #214, San Francisco 415-923-3007
5 Bon Air Rd #127, Larkspur 415-927-6600
Basham, Arthur (6 mentions) U of California-Irvine, 1977
Certification: Ophthalmology
212 Oak Meadow Dr, Los Gatos 408-354-4740
Blumenkranz, Mark (7 mentions) Brown U, 1977
Certification: Ophthalmology
1225 Crane St #202, Menlo Park 650-323-0231
300 Pasteur Dr #A157, Stanford 650-725-0231
Breaux, Barry (5 mentions) Columbia U, 1976
Certification: Ophthalmology
1320 Tara Hills Dr #C, Pinole 510-724-8100
Brown, Richard (4 mentions) Washington U, 1971
Certification: Ophthalmology
27400 Hesperian Blvd #M7, Hayward 510-784-4010
Campbell, John (5 mentions) U of Washington, 1975
Certification: Ophthalmology
901 E St#285, San Rafael 415-454-5565
Chang, David (7 mentions) Harvard U, 1980
Certification: Ophthalmology
762 Altos Oaks Dr, Los Altos 650-948-9123
Crawford, Brooks (8 mentions) UCSF, 1960
Certification: Ophthalmology
3838 California St #410, San Francisco 415-387-8808
Cruciger, Marc (8 mentions) U of Texas-Houston, 1973
Certification: Ophthalmology
3838 California St #410, San Francisco 415-668-2118
Day, Susan (10 mentions) Louisiana State U, 1975
Certification: Ophthalmology
2340 Clay St #100, San Francisco 415-202-1500
Denny, Kevin (4 mentions) New York U, 1980
Certification: Ophthalmology
2201 Webster St, San Francisco 415-567-8200
2299 Post St, San Francisco 415-567-8200
Dowling, James (4 mentions) UCSF, 1968
Certification: Ophthalmology
112 La Casa Via #260, Walnut Creek 925-934-7800
Fourrier, Dan (5 mentions) Louisiana State U, 1973
Certification: Ophthalmology
900 Kiely Blvd, Santa Clara 408-236-6410
Fung, Wayne (6 mentions) U of Southern California, 1959
Certification: Ophthalmology
2100 Webster St #214, San Francisco 415-923-3007
Gaynon, Michael (5 mentions) U of North Carolina, 1972
Certification: Ophthalmology
300 Homer Ave Fl 2, Palo Alto 650-853-2974
Greene, Stuart (11 mentions) SUNY-Buffalo, 1972
Certification: Ophthalmology
900 Kiely Blvd, Santa Clara 408-236-4323
Hoyt, Creig (5 mentions) Cornell U, 1968
Certification: Ophthalmology
400 Parnassus Ave #702, San Francisco 415-476-1205
Hsu-Winges, Charlene (5 mentions) Tufts U, 1976
Certification: Ophthalmology
1200 El Camino Real, S San Francisco 650-742-2000
Karlen, Kris (4 mentions) Boston U, 1980
Certification: Ophthalmology
611 Milpitas, Milpitas 408-945-2911
Lloyd, Mary Ann (4 mentions) Columbia U, 1985
Certification: Ophthalmology
300 Homer Ave Fl 2, Palo Alto 650-853-2974
Lurie, Mark (4 mentions) Stanford U, 1982
Certification: Ophthalmology
39400 Paseo Padre Pkwy, Fremont 510-795-3030
Reidel, J. Frederic (4 mentions) UCSF, 1969
Certification: Internal Medicine, Ophthalmology
112 La Casa Via #260, Walnut Creek 925-934-6300
Schwartz, Lee (5 mentions) Tufts U, 1970
Certification: Internal Medicine, Ophthalmology
2233 Post St #201, San Francisco 415-921-7555
Sorenson, Robert (9 mentions) U of Calif-San Diego, 1980
Certification: Ophthalmology
3010 Colby St#114, Berkeley 510-848-4733
Stamper, Robert (4 mentions) SUNY-Brooklyn, 1965
Certification: Ophthalmology
2100 Webster St #214, San Francisco 415-923-3007
Thier, M. David (5 mentions) U of Florida, 1962
Certification: Ophthalmology
2100 Webster St #212, San Francisco 415-923-3100
Winton, Carol (4 mentions) Jefferson Med Coll, 1988
Certification: Ophthalmology
1174 Castro St #100, Mountain View 650-961-2585
413 E El Camino Real, Sunnyvale 408-524-5904
Woolf, Michael (6 mentions) U of Michigan, 1965
Certification: Ophthalmology
2225 Port Chicago Hwy, Concord 925-686-2020