2020 Ridley Medal:
Dr. Chang was selected to receive the prestigious 2020 Ridley Medal in Amsterdam. This is the highest honor bestowed by the European Society of Cataract & Refractive Surgery. He is only the 3 rd American to receive this award in the past 15 years.
2020 Venkataswamy Memorial Award
2020 Tadeusz Krwawicz Gold Medal
Dr. Chang was awarded the 2020 Tadeusz Krwawicz Gold Medal at the World Ophthalmology Congress. This honor is awarded every 4 years by the International Council of Ophthalmology to an ophthalmologist who has significantly contributed to the advance of ophthalmology, doing outstanding work in cornea, cataract surgery, operative treatment of diseases of the anterior segment, and introduction of new technologies and to the advancement of international relationships among ophthalmologists.
2019 DOC Innovator award
Dr. Chang delivered the Albrecht von Graefe Innovator Award Lecture at the 2019 DOC meeting in Nuremberg. This is the international congress of the German Ophthalmic Surgeons.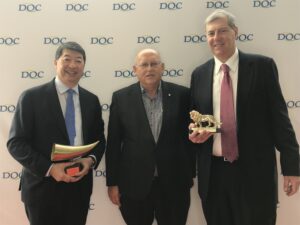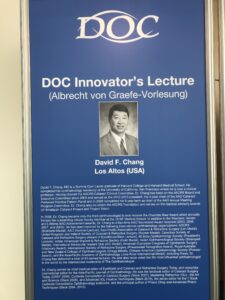 2018 Pioneer Award
Dr. Chang receives the 2018 Pioneer Award from the Chinese American Ophthalmological Society – their highest award
Dr. Chang awarded 2009 Binkhorst Medal/Lecture
View the Binkhorst Lecture
More Awards and Lectures